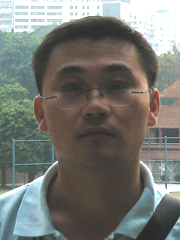 Prof. Haibao Lv
Biography
In 2009, Dr. Lu received his Bachelor and Master Degree of Materials Science from the Harbin Institute of Technology in 2004 and 2006, respectively. Afterward, he then received his Doctor of Philosophy (PhD) from Harbin Institute of Technology in 2010, and his project was mainly focused on the electroactive and solvent responsive shape-memory polymer blends and their constitutive equation. Within this period, he worked as a visiting scholar at the University of Central Florida, Orlando, U.S, and his project was focused on the fabrication of carbon-based nanopaper and enabled shape-memory polymer composites. Thereafter, Dr. Lu joined the National Key Laboratory of Science and Technology on Advanced Composites in Special Environments, Harbin Institute of Technology as a lecturer. In 2012, He won the China Excellent Doctoral Dissertation Awards, and achieved an accelerated promotion to professor.
Research Fields

Electroactive, Solvent Responsive Shape-memory Polymer Blends and Their Constitutive Equation;
The Fabrication of Carbon-based Nanopaper; Shape-memory Polymer Composites.
Contact
Prof. Haibao Lv
PO Box 3011, No.2 YiKuang Street
Center for Composite Materials and Structures
HIT Science Park, Harbin 150080, PR China.
Email: lvbuwei1981@163.com
Tel.: 0086451-86403269