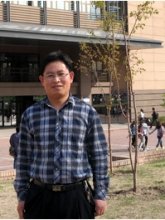 Biography
X. L. Xiao obtained his Bechlors degress of Chemistry from Northeast Normal University in 2003, and then the Masters degree of Theoretic Physics from Northeast Normal University in 2006. He obtained his PhD in the field of conducting polymers in Changchun Institue of Applied Chemistry, Chinese Academy of Science in 2010. Now he is working as a lecturer in the Department of Chemistry, Harbin Instituje of Technology. He has authored several SCI papers with the IF>3.
Research
Synthesis of conducting polymers with novel properties; electro-magnetical nanomaterials, organic/inorganic nanocomposites, etc.
Contact
Room 508, Building of Science
Harbin Institute of Technology (HIT)
No. 92 West Dazhi Street, Harbin 150001, PR China.
Web: http://smart.hit.edu.cn/introduction.php?id=100